What's Chitika working on?


Coming improvements


- Quicker stats
- More detailed stats
- Daily audits
- UK local listings
- France local listings
- Ads for RSS
- & for books/travel
- UK merchants
- Pounds & Euro prices
- More ad formats
- Ad preview tool


more...
Recent developments
CHANNELS! (Nov 7th)
The code page now automates the addition of keywords to your ad code. Log into your account to see it
- Banner ads for referral program
- Totals in stats
===========
Signed up for Chitika and not profitable?
We can help.
===========
Joining now is better than joining later
It's always better to get in early on programs like this. Many webmasters dragged their heels when Adsense first came out. They were used to getting paid peanuts and didn't think this new program was going to be any different. And boy were they wrong!? They didn't jump to implement the code, to take all their CJ, Fastclick and other ads off, to remove IntelliTXT and other petty cash programs, to get on the bandwagon. What did they lose? Several of them lost tens of thousands of dollars!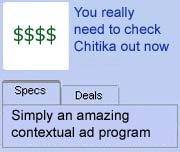 Don't be a gawker, be an early adopter. Don't have the time to run a full implementation? Well, don't! Identify a single page and stick the code on. It shouldn't take you more than a few minutes. If, after a few days of stats, you're not excited enough to put everything aside to replace all your ads with eMiniMall ones - then all you've lost is a few minutes. But, do yourself a favour, invest those few minutes now. And get Chitika eMiniMalls for your site.
Actual eMiniMall feedback comments gathered from around the net:
Webmaster forum/s:
Man these minimalls are good. After weeks like this one I kick myself for not finding and trying them earlier!!!

I have Chitika running in a site where Adsense pays around $0.15 a click. Chitika is paying $0.49 each click, so the lower CTR is well compensated.
I have to say that Chitika also have good and personalised customer service. Being such a klutz I do appreciate when someone takes the time to point me in the right direction.

I can only say that my experience of Chitika customer service has been excellent.

Good results here, same or higher clicks than adsense and 3 x the payout, even though the eminimall ads I show are rather low value

So I am very happy indeed... and hope this is the beginning of a beautiful friendship..

My first day was great too, I set it up in the evening and 3 clicks paid me $1.20! Continue like that and I'll dump AdSense

chitika really good source of additional income.... I have use them 2 months already

I got paid. I love Chitika.
I just added chitika on top of my ads on my test site and the amount of money I have made compared to Yahoo in a fraction of the time is ridiculous
From blogs:
they have more than doubled my daily earnings and taken them to a level that is over $1000 per day
Like others, I've also found their support to be fast and informative. My initial impression of Chitika is a big positive.
I am a big fan of eMiniMalls and am making a lot of money from it (*cough -- cant say how *cough)
As you can see from the numbers - I have reason to be pretty excited about eMiniMalls
I just started using Chitika... so my click through is still low. However, the PPC values are fabulous
I have to say that Iím quite stunned.
I've also jumped on the Chitika bandwagon, especially since AdSence income is becoming more and more questionable...I'm impressed with Chitika and it's potential as a major source of income... really impressed.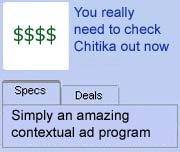 The click value for eMiniMalls is significantly higher than it was for Adsense


Elsewhere:
They do pay on time, I got the payments twice via paypal.
itís had a pretty amazing impact upon my earnings
OTHER PAGES
Advantages over other contextual programs and how to exploit them
Double or quits: Using Chitika together with Adsense and and staying compliant with both
More tips on maximising revenue
Reasons to NOT use Chitika, Adware alerts, other caveats