What's Chitika working on?


Coming improvements


- Quicker stats
- More detailed stats
- Daily audits
- UK local listings
- France local listings
- Ads for RSS
- & for books/travel
- UK merchants
- Pounds & Euro prices
- More ad formats
- Ad preview tool


more...
Recent developments
CHANNELS! (Nov 7th)
The code page now automates the addition of keywords to your ad code. Log into your account to see it
- Banner ads for referral program
- Totals in stats
===========
Signed up for Chitika and not profitable?
We can help.
===========
Advantages over other contextual ad programs
Webmasters banned by Adsense are switching to Chitika eMiniMalls but webmasters who aren't banned are still making the move. Why? Because it has several advantages over Google's Adsense (Chitika vs Adsense program comparison)
Disclaimer: Chitika is not like Adsense and doesn't have all the restrictions Adsense does but Adsense does have some strict rules. We explained how not to violate them. (If you're really concerned drop Adsense an email to double check.) Or remove all Adsense ads and replace them with Chitika for a trial period. You don't increase your earnings by letting opportunities pass you by!
You can make money from Chitika without lowering your current Adsense earnings.
Or you can use Chitika on its own, remove Adsense altogether, and be pleasantly surprised.
Guaranteed 60% commissions
No more guessing what you'll make, how SmartPricing will affect you, whether you'll suddenly start losing income for no apparent reason. Chitika eMiniMalls is very transparent. You get 60% of what they charge the advertiser for your click. Simple, clear, unambiguous, and not subject to change and fluctuations day after day.
Giving your visitors price comparisons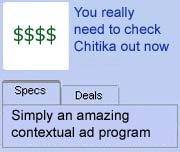 The problem with static ads like Adsense is that there are millions of them around. Users have gotten used to the look and feel of Adsense ads. Chitika adds something new. Apart from the fresh new look it adds new functionalities. Users can do price comparisons just by hovering over the ad and without leaving your site! They can even see a shot of the product which visual stimulation often helps to push them over the click resistance barrier.
Staying safe with Adsense
If you have an existing Adsense account you obviously don't want to risk losing it by putting any other ads on. You are understandably cautious about getting banned. We've put together all you need to know about running Chitika without violating any Adsense TOS.
Opening more than one account
Adsense Terms of Service do not allow you to open more than one account. Chitika's does. That alone can make for substantially more earnings. We tell you how.
Flaky Adsense
Have you noticed that when you change anything on a page Adsense payouts go all over the place? They drop, and it takes Google several days/weeks before they make the adjustments and you return to making what you were before. That is not an issue with Chitika and you don't need to be afraid to edit your own site.
Control over the ads
Apart from the usual controls like ad size, colour, placement etc., with eMiniMalls you have the option of turning the contextual engine on or off, specifying your keywords or even setting keywords to rotate (see tips page). But, that's not all; you can control which tab shows first (again, on the tips page) which can be an interesting tool to play around with; product, description, best deals and search can all throw up vastly different Click Through Ratios when used as the first tab. How to?
Customer service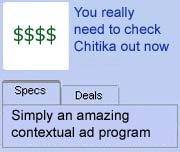 Chitika customer service is excellent. We've tried emailing them several times with a range of questions, some more technical than others. The replies weren't lightning quick (24-48 hours) but in every instance we had a personally written email - no boilerplate text in sight - and the emails addressed and answered every point in a courteous and efficient manner. Very professional.
Specifically for blogs
Chitika works well with blogs, particularly blogs where readers might be interested in a particular product. It allows inserting the ad in comments, and targeting the ad via the keywords in the title. In Moveable Type use ch_query = "<? $MTEntryTitle$ ?>"; and in WordPress use ch_query = "<? php the_title(); ?>";
Convinced? Sign up for Chitika today and we'll help you make money. Really. See the best collection of Chitika tips/guides here and our free consultancy service to help you earn more money. Sign up now.
Home | Next Page: Using Chitika eMiniMalls with Adsense and Yahoo Publisher Network without getting banned by any of them >>