Review of Vibrant Media

<< Return to Start of 101 Ways To Monetize Your Website / 101 Alternatives to Adsense.
To discuss this program or provide feedback on this review, please visit the relevant forum thread linked to below (registration required to post).
If you find this review and this site useful, do yourself a favour and sign up for our newsletter.
Disclaimer: This review was compiled in June 2012, but this is the internet and things change quickly (so this information is provided without warranty).

Should you get stuck on any of the terminology used, our Glossary might help.


Forum discussion for Vibrant Media
Vibrant Media REVIEW
Vibrant Media Quick Facts:
Program name: Vibrant Media
Country: US
Ad types: In-text ads (demo here), image ads, dynamic display ads (demo here), related content ads
Ad formats/sizes: Extensive gallery of ad samples can be found here, IAB compliance details here, in-text ad formats here, display ads specifications here
Commission types / Payment Model: N/A
Rate per click/lead/etc: Website revenue varies depending on content category and the quantity of page views
Payment methods: Check
Minimum payout: N/A
Payout percentage share with publishers: N/A
Payment frequency: N/A
Auto-accepts ads / option for manual ad approval:
Setup method: Manual code insertion, WordPress plug-in available
Skills and effort required to setup and manage: Average skills to setup, minimal time to manage
Time until relevant ads appear on website after signup/installation: N/A
Conflict with other programs and/or exclusivity: N/A
Requirements / Restrictions: Websites must receive more than 500,000 page impressions per month, no questionable content of any kind, Vibrant display minimum qualifications can be found here, guidelines and standards for in-text ads can be found here, terms and conditions here
Coverage and Geographic focus: Global coverage, international advertising support available in English, Spanish, French, Italian, Japanese, Simplified Chinese and German
Support/troubleshooting: In-text ads FAQ can be found here, Installation instructions and details here, account managers reachable via email, a list of useful links and contacts can be found here
Vibrant Media Review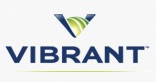 Founded in 1999, Vibrant Media, also known simply as Vibrant, is an ad network that focuses mainly on in-text ads but also serves a wide variety of other ad types for their publishers and is one of over a hundred such programs we review on experienced-people.co.uk.
In-text ads are Vibrant's flagship and the creative designs they serve with them are quite extensive and up-to-date with today's web 2.0 technology. Triggered through double-underlined (no option to customize that) keywords or phrases the in-text ads can display standard text and image advertisements as well as more interactive ad types such as roll-over, expandable and embedded video spots.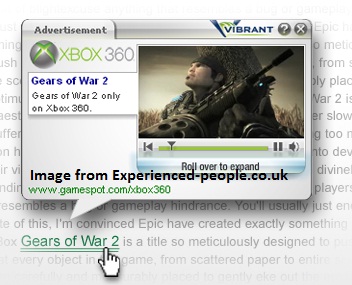 In-text ads sample from Vibrant's publisher in-text advertising page
Beyond their impressive in-text ads which are tailor-made for websites with plenty of written content, Vibrant also offers ad options for sites with little text but lots of images. These are their image ads which are displayed as overlays at the bottom of editorial images in a website and are an excellent way to monetize websites rich in images but without many articles.
Vibrant also serves display ads (full-site demo here) which are ads targeted based on words bought by brand advertisers and finally related content ads which come from an automated linking system that provides relevant ads for each page and is basically a content-sensitive variation of their traditional in-text ads, made different by a small search icon next to each ad.
The majority of their ads come with modern design and optimized with new tech but this innovation seems to have a downside; Ad customization is relatively limited as most units come ready for display and publishers aren't given many choices, even when it comes to customizing the appearance of their in-text ads (not even tweak the double-underline!). However, their ad inventory is powerful and rather extensive since Vibrant works with leading advertisers such as Microsoft, Apple, Sony, Daimler-Chrysler, Johnson & Johnson, Nike, and Samsung.
Their official website is easy to navigate and full of useful data. It features specific FAQs for publisher issues, whole dedicated sections for every ad product served through Vibrant (including interactive ad demos) and detailed installation and implementation instructions. However it offers little in terms of payment information and visitors are asked to contact Vibrant directly for any inquiries about payment. Apart from their good installation guides and troubleshooting FAQs, their tech support is easily reachable and helpful.
Given the fact that Vibrant is an old and established network it comes as no surprise that there are numerous and contradicting online reviews about them. Vibrant serves many different ads but their main focus is in-text advertising. Between the most established in-text ad networks comparisons are unavoidable and many reviewing publishers compare Vibrant directly with in-text giants and competitors Infolinks and Kontera.
When it comes to in-text ads, Vibrant offers more ad variety than Infolinks but less than Kontera while it seems to generally pay more than Kontera but less than Infolinks. Rock-paper-scissors anyone?
In closing; Vibrant holds its ground well against its most powerful competitors. Since its founding (many years before said competitors sold their first ads!) Vibrant has proven profitable for thousands of publishers and didn't hesitate to reinvent itself as the internet changed with time, keeping up with all the latest innovations in online advertising. Read about other monetizing programs at experienced-people.co.uk/1200-make-money-from-websites/ and you can leave your own comments and feedback about Vibrant Media at our Vibrant Media forum thread.
---
Found our site useful? Do yourself a favour, sign up for our newsletter.