Review of Ad Igniter

<< Return to Start of 101 Ways To Monetize Your Website / 101 Alternatives to Adsense.
To discuss this program or provide feedback on this review, please visit the relevant forum thread linked to below (registration required to post).
If you find this review and this site useful, do yourself a favour and sign up for our newsletter.
Disclaimer: This review was compiled in June 2012, but this is the internet and things change quickly (so this information is provided without warranty).

Should you get stuck on any of the terminology used, our Glossary might help.


Forum discussion for Ad Igniter

AD IGNITER REVIEW
Ad Igniter Quick Facts:
Program name: Ad Igniter
Country: Canada
Ad types: Banner, pre-roll video, mobile ads, in-text ads, pop-unders
Ad formats/sizes: N/A
Commission types / Payment Model: CPM
Rate per click/lead/etc: Rates vary depending on country, details on their homepage here
Payment methods: PayPal, Check
Minimum payout: $50
Payout percentage share with publishers: N/A
Payment frequency: NET 60
Auto-accepts ads / option for manual ad approval: N/A
Setup method: N/A
Skills and effort required to setup and manage: N/A
Time until relevant ads appear on website after signup/installation: N/A
Conflict with other programs and/or exclusivity: N/A
Requirements / Restrictions: N/A
Coverage and Geographic focus: Global coverage
Support/troubleshooting: Account representatives assigned to each publisher
Contact info: + (1) 8888096961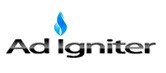 Founded in 2004, Ad Igniter is an ad network serving 360 million impressions each month and is one of over a hundred such programs we review on experienced-people.co.uk.

They specialize in CPM campaigns and serve ads in banners of various sizes as well as pre-roll video ads, mobile ads, in-text ads and pop-unders.
They pay publishers impressive (semi) fixed rates (found in their homepage) based on the country the impressions come from. Typically, eCPM for US impressions is $0.87, for Canada and UK $0.85, for Germany $0.75, for France $0.50 and for the rest of the world 1000 impressions pay from $0.03 to $0.50; as stated in Ad Igniter's homepage.
The above claimed eCPMs are quite good and enticing enough but sadly Ad Igniter offers little else in terms of meaningful information throughout their whole website which is, in essence, virtually empty.
Their publisher page is just that, a single page and sadly, along with the homepage, it's the most detailed page in their whole site! No FAQs, no terms, no help centers can be found. Even contact information is limited to a single telephone number and a single email address found in the footer of each page.
Their support includes account representatives assigned to each publisher but outside the program's dashboard support can only be reached through ad Igniter's general inquiries phone line and email. This can cause a great deal of frustration to publishers with problems logging in the dashboard, since they need access to the dashboard in order to properly contact support!
Publishers seeking more information to make an informed decision about joining Ad Igniter or not, are forced to contact Ad Igniter directly to ask for information that, in our opinion, should have been readily available through their homepage anyway.
They may have been around for many years but, honestly, apart from the tempting and particularly detailed eCPM rates claimed by Ad Igniter there is little else to comment the program for and it is sad if that's true just because they fail to provide enough useful information. Publishers thinking to give Ad Igniter a try should first contact them directly and patiently inquire for more information, otherwise they will be trying their luck. Read about other monetizing programs at experienced-people.co.uk/1200-make-money-from-websites/. You can leave comments and feedback about this program at our Ad Igniter forum thread.
---
Found our site useful? Do yourself a favour, sign up for our newsletter.