Review of Search123

<< Return to Start of 101 Ways To Monetize Your Website / 101 Alternatives to Adsense.
To discuss this program or provide feedback on this review, please visit the relevant forum thread linked to below (registration required to post).
If you find this review and this site useful, do yourself a favour and sign up for our newsletter.
Disclaimer: This review was compiled in June 2012, but this is the internet and things change quickly (so this information is provided without warranty).

Should you get stuck on any of the terminology used, our Glossary might help.


Forum discussion for Search123
Search123 REVIEW
Search123 Quick Facts:
Program name: Search123
Country: UK
Ad types: Pay-per-click ads, sponsored web search boxes
Ad formats/sizes: N/A
Commission types / Payment Model: CPC
Rate per click/lead/etc: N/A
Payment methods: PayPal, check
Minimum payout: £100
Payout percentage share with publishers: Relative to volume and quality of traffic
Payment frequency: NET 30
Auto-accepts ads / option for manual ad approval: No option to manually approve ads but publishers can manually fill keywords in search boxes
Setup method: Manual code insertion
Skills and effort required to setup and manage: Above average skills required to setup and manage
Time until relevant ads appear on website after signup/installation: N/A
Conflict with other programs and/or exclusivity: N/A
Requirements / Restrictions: No questionable content of any kind
Coverage and Geographic focus: Global coverage
Support/troubleshooting: Support reachable through account screen, publisher FAQs here
Contact info: Contact page here
Search123 Review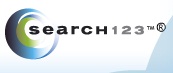 Search123 is a UK-based pay-per-click and advertising network that works complementary to other PPC search programs and is one of over a hundred such programs we review on experienced-people.co.uk.
Search123 is part of ValueClick group which includes big names like the leading affiliate market Commission Junction and web ad giant ValueClick Media. As a member of ValueClick group, Search123 enjoys great stability and sports powerful partnerships.
Search123 does not have the ad variety and multitude of services ValueClick Media offers; instead they only work with pay-per-click advertisements and web search boxes that display -you guessed it- pay-per-click advertisements.
Their search results and sponsored ads are built to work complementary to similar CPC services, which is a big plus, and they have the huge advantage of sharing their ad inventory with the humongous ValueClick networks inventory as well as third-party networks.
Their whole system is compact and effective. Support is good, FAQs are just right, official website is OK and everything is stable and works smoothly.
Search123 offers decent reporting tools that are updated hourly and control tools are just right for the job. Everything is clean and easy-to-use, although that's not hard to achieve with such a straightforward CPC-only network.
The network pays through PayPal or check, on a NET 30 schedule with a minimum payout of £100. Search123 has several quality standards, with bigger publishers enjoying higher payout percentages and other special privileges.
All in all, Search123 is more than meets the eye. They are stable and compact, with a huge ad inventory and powerful partnerships and their ads can be used alongside (and complementary to) similar programs. Publishers looking to implement web search functionality on their websites should seriously consider Search123 as one of their best options. Read about other monetizing programs at experienced-people.co.uk/1200-make-money-from-websites/ and you can leave your own comments and feedback about this program at our Search123 forum thread.
---
Found our site useful? Do yourself a favour, sign up for our newsletter.