Review of PeakClick

<< Return to Start of 101 Ways To Monetize Your Website / 101 Alternatives to Adsense.
To discuss this program or provide feedback on this review, please visit the relevant forum thread linked to below (registration required to post).
If you find this review and this site useful, do yourself a favour and sign up for our newsletter.
Disclaimer: This review was compiled in June 2012, but this is the internet and things change quickly (so this information is provided without warranty).

Should you get stuck on any of the terminology used, our Glossary might help.


Forum discussion for PeakClick
PeakClick REVIEW
PeakClick Quick Facts:
Program name: PeakClick
Country: Switzerland
Ad types: In-text ads, toolbars, search boxes, feeds
Ad formats/sizes: N/A
Commission types / Payment Model: CPC
Rate per click/lead/etc: Variable
Payment methods: PayPal, wire transfer, Western Union and more
Minimum payout: $100
Payout percentage share with publishers: 70%
Payment frequency: Payments issued every two weeks, option for manual payment requests allows for faster payments
Auto-accepts ads / option for manual ad approval: N/A
Setup method: Manual code insertion
Skills and effort required to setup and manage: Above average skills required
Time until relevant ads appear on website after signup/installation: N/A
Conflict with other programs and/or exclusivity: None specified
Requirements / Restrictions: No questionable content of any kind, certain traffic quality and content requirements apply, additional restrictions can be found in the terms of service here
Coverage and Geographic focus: Global coverage, EU focus
Support/troubleshooting: Account managers available to assist, FAQs here
Contact info: +41417697945, online contact form can be found here
PeakClick Review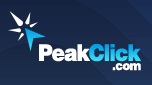 Founded in 2004, PeakClick is an ad network that serves 1.5 billion impressions daily and is one of over a hundred such programs we review on experienced-people.co.uk.
The network works exclusively with CPC advertisements. Their main product is in-text ads. Every time visitors load a publisher page, PeakClick's in-text links appear. When users roll over these links, an advertisement box appears. Unlike most other in-text ads however, PeakClick advertisements do not fade away when users move their cursors from the sponsored link. Instead they persist and this can cause problems with accessing the actual contents of a page.
Apart from in-text links, PeakClick also offers sponsored toolbars, customizable search boxes and sponsored feeds; all typical products of PPC networks. PeakClick's inventory is average and includes several exclusive and EU-focused offers.
One great thing about PeakClick is their powerful reporting tools that are updated every 15 minutes. Usually networks of this size and scope lack in that area, but PeakClick's reporting, as well as control tools, are well above average. Tech support is OK and the official website is a just bit heavy on hype but otherwise decent.
All in all, PeakClick can be a viable choice only for publishers targeting European audiences. Arguably, their biggest problem is the persistent ads that expand from their in-text links, blocking parts of the content. Most other in-text ad networks serve less obtrusive ads, so comparing them with PeakClick is difficult and in the end publishers must decide for themselves if they can afford slightly more obtrusive ads in order to take advantage of PeakClick's benefits. Read about other monetizing programs at experienced-people.co.uk/1200-make-money-from-websites/ and you can leave your own comments and feedback about this program at our PeakClick forum thread.
---
Found our site useful? Do yourself a favour, sign up for our newsletter.