Review of 24/7 Real Media

<< Return to Start of 101 Ways To Monetize Your Website / 101 Alternatives to Adsense.
To discuss this program or provide feedback on this review, please visit the relevant forum thread linked to below (registration required to post).
If you find this review and this site useful, do yourself a favour and sign up for our newsletter.
Disclaimer: This review was compiled in June 2012, but this is the internet and things change quickly (so this information is provided without warranty).

Should you get stuck on any of the terminology used, our Glossary might help.


Forum discussion for 24/7 Real Media
24/7 Real Media REVIEW
24/7 Real Media Quick Facts:
Program name: 24/7 Real Media
Country: US
Ad types: Banners, video ads
Ad formats/sizes: Pre-roll, mid-roll, post-roll, in-banner videos, rich media, flash
Commission types / Payment Model: CPC, CPM
Rate per click/lead/etc: N/A
Payment methods: Check
Minimum payout: N/A
Payout percentage share with publishers: N/A
Payment frequency: N/A
Auto-accepts ads / option for manual ad approval: Limited control mentioned
Setup method: Manual code insertion
Skills and effort required to setup and manage: Average skills required to install and manage effectively

Time until relevant ads appear on website after signup/installation: N/A
Conflict with other programs and/or exclusivity: N/A
Requirements / Restrictions: No questionable content of any kind
Coverage and Geographic focus: Global coverage
Support/troubleshooting: Client support available through the dashboard, tech support can be reached through the program's online contact forms
24/7 Real Media Review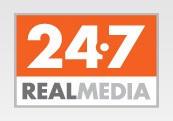 24/7 Real Media is a global media and ad network that has been around 1995 in one form or another. 24/7 Real Media is one of over a hundred such programs we review on experienced-people.co.uk.
The network specializes in banners and video advertisements of all kinds. Available ad types include pre-roll, mid-roll, post-roll and in-banner video ads, rich media and flash ads as well as more traditional banner formats in all IAB-compliant specs. As expected from banners and video ads, all ad campaigns pay either CPC or CPM commissions, though specific rates are unknown.
Besides the fact that 24/7 Real Media pays only by check little else is mentioned about how often they pay or what the minimum payout is. The lack of PayPal and wire transfer payment support along with no clearly defined payment schedule does limit publisher options and will surely be a deciding factor for many publishers as to whether to work with 24/7 Real Media or not.
Support is very good with 24/7 Real Media. In case customers can't reach them directly through the dashboard, support staff will get back to them via email or telephone (customer's choice) and the representatives are helpful indeed.
The network's official website is a bit confusing to navigate but the control dashboard is clean enough and than makes up for the website's odd design. Of particular interest are the website analytics tools 24/7 Real Media offers. Their in-house analytics are easy to use and allow publishers to track all navigational paths website visitors take, from where they enter the website and from where they leave as well as all the details of every interaction. Additionally, audiences can be easily segmented in order to display trends by time, location or any other parameter the publisher wishes to track.
There are publishers working with 24/7 Real Media for more than a decade now and that alone is a sign of the network's stable and reliable services. Critics of 24/7 Real Media might point out that the ad network has changed little over the years but in this case that's really an argument in favor of 24/7 Real Media, since they are still going strong. Read about other monetizing programs at experienced-people.co.uk/1200-make-money-from-websites/ and you can leave your own comments and feedback about this program at our 24/7 Real Media forum thread.
---
Found our site useful? Do yourself a favour, sign up for our newsletter.